In North America, this unit is known as GRIPWINCH ® mobile winch.

The TIRAK mobile winch is the ideal lifting and pulling device for frequently-changed operating positions on site.

Anchoring and operation of the TIRAK ® mobile unit with its special TIRAK ® wire rope is quick and versatile. Once in position it is designed to automatically turn in the direction of line pull and for the tension and rope speed to remain constant at all times.

The outstanding features of the TIRAK ® mobile winch make it a most versatile unit; it can be used like a conventional winch as well as a materials hoist. It is the ideal solution for lifting and pulling applications in the installation of lift shafts, for tensioning conveyor belts, to operate large hangar doors, to move stage settings, to pull undergroumd power lines, in building, construction and civil engineering.

The special TIRAK ® steel wire rope supplied with the TIRAK ® has been designed and manufactured to extremely fine tolerances demanded by the TRACTEL group for use with the machine.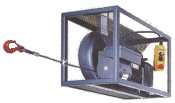 Motorised mobile winch with built in automatic wire rope storage reeler and special TIRAK wire rope